Date: Oct. 15, 2010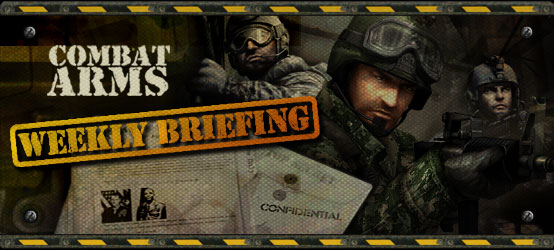 Attention Freaks!

A month of fear and horror continues in Combat Arms! This week you went above and beyond
and topped 200,000 Facebook fans on the Combat Arms page. With that many soldiers on the
hunt, the enemy is shaking in his boots now! To celebrate, we'll be holding a special 200K event
and you can get all the details in this week's Weekly Briefing! We're also continuing to tell ghost
stories with our Item of the Week, the Halloween Sickle! Naturally we'll be continuing to host
some other great events including the Daily 10-matches event and Pistol Month -- now with rare
pistols on sale! Stick with the Weekly Briefing to learn everything you need to know about
Combat Arms, and remember there are no such things as zombies! At least that's what we say
to the media about that little Cabin Fever incident...
Headlines

Mission Accomplished! 200K Facebook Fans!

You did it! We asked for your best efforts and you came through. The Combat Arms Facebook page now has
200,000 fans. In recognition, Combat Arms Command is declaring this weekend (starting at 4PM PST) a 2X
EXP and GP weekend! We will also be making a PERMANENT L96A1 available for only 100k!
We salute you!Events*Rare Pistol Sales Added* October is Pistol Month!
This month is all about deadly things coming in small packages. All month long you can enjoy special sales
and events on trusty side arms and last-ditch lifesavers and this week we've added some great rare pistols!
Get the detailsOngoing: Daily 10 Matches Event


A little short on NX? Looking for some FREE NX ITEMS? Well here they are! All you have to do is
play 10 matches of the same mode each day, and you'll get a surprise FREE NX item at the end
of your 10 matches each day, instantly!
Get started!

Daily 1 Hour Event: Week 3
The doctor always says, 1 hour of Combat Arms a Day keeps the bad guys away! So play 1 hour
of Combat Arms per day, 5 times a week, and get exclusive, limited edition Halloween Items
FREE! This week, get a 7-day Halloween Sickle.
Get the details

MarketplaceMajor Credit Cards Now Accepted in Combat Arms
Combat Arms is now accepting all major credit cards for NX Credit purchases in the game. We're excited to deliver this service as a simple and convenient way to charge NX Credit so you can do more than ever before!
Get the details
Ongoing: Camo Yourself for Halloween and Get NX!
It's that time of the year again. Time to go undercover in the scariest, most haunting, and most terrifying costumes you can find in order to go from door to door and "liberate" all kinds of sweet treats from the enemy (or your neighbors... or both!). To facilitate this, Combat Arms Command has an offer for you!
Get NX 6,975!

Item of the Week
Halloween Sickle (Reward three of three from the Daily 1-Hour Event!)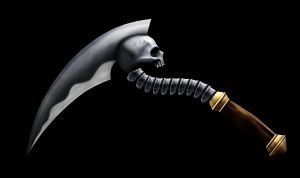 A hideous scythe you can use to reap your enemies. This week we asked you tell us where this
item came from.
Here's some of the stories your fellow Combat Arms soldiers told:
"The Halloween Sickle is death's tool for keeping his passengers in line on the passage to The
Underworld. Crafted from human bones, and overlaid with silver, this sickle is capable of
inflicting endless torment on the poor soul who comes under it's wrath." --
Albert J.
"The Halloween Sickle is a Sickle of great power. The person who originally owned it was Death
Himself, however someone managed to trick death and take it from him. The next person to
own it, used it to defeat his most annoying of foes, however he was soon tricked out of the
Sickle himself. This continued to happen, the Sickle being tricked out of the owner's possession,
which created a curse on the blade. You cannot lose the Sickle nor can you break it or give it
away and when it's in your possession you will continue to defeat the most annoying of people
in your life, without fail. However as part of the curse on the blade you will eventually be
relieved of it through trickery, thus the Trick or Treat Halloween." --
Jonathon L.

"Legend has it that the Halloween Sickle was discovered by Hawk while he was in the jungles of
Africa, near Brushwood. He was attempting to rescue Hana, who had been taken hostage after
unknowingly parachuting down into the middle of Guerrilla warfare. While using his satellite
scanner in an attempt to find Hana's exact whereabouts, he noticed something picking up on
the scanner, although he was unsure exactly what it was, the thought of it being Hana was all
he needed to track it down. Upon arriving at the location, he found a metallic object lying at
the exact coordinates of the signal. Picking it up, he realized it was no ordinary sickle, and he
knew using it would be the only way he could save Hana. At exactly 0700 hours the next
morning, he and Hana were safely flying in a transport that was headed non-stop to Nexon's
headquarters. Upon telling his commanding officer what had happened, Hawk was promoted to
General of the Army. Ever since that day the Halloween Sickle has been on the black market,
with countless specialists dying to get their hands on it." -- Matt J.
Details on the Daily 1-Hour event Check out the discussion on Facebook
Basic Training
New to the Weekly Briefing? Welcome to basic training, maggot! This is where we direct you to
areas of interest and give you tips on things that recruits should really know in order to become
effective in the fight faster! This week's question:

What is NX?
NX is real world currency used for all Nexon Games. NX can be spent on in-game services such as the Black Market in
Combat Arms.

Do I need NX to play?

Nope. Although NX can be used to enhance and improve your game experience, there is no
requirement to use NX.
The NX guideGet some NXCommunity Spotlight
Tell a Spooky Combat Arms Tale!
You may have noticed a Pumpkin Head story contest on Facebook last week and the Halloween
Scythe in this week's Weekly Briefing. Well Kalika decided to bring a very similar contest to the
forums. She had talented and creative forumers tell a tale using the Pumpkin Head as
the subject. Check out and enjoy what your fellow Combat Arms soldiers came up with!
Mwahahaha!
Ready for combat, soldier?
Get some NX today!
Interested in even more action?
Get FREE NX by completing this offer!
E93B050F-1E09-3111-8513-B50F427F628D
1.03.01E93B050F-1E09-3111-8513-B50F427F628D
1.03.01